https://www.e-q-t.com/wp-content/uploads/2020/03/eqt-homepage.jpg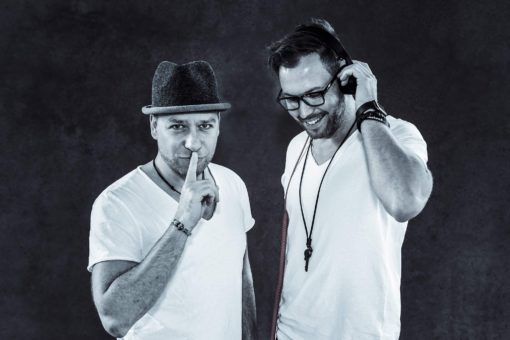 BIOGRAPHY
What does E.Q.T. stand for?
A question that is often asked of the two DJs from Hamburg. The answer is simple: As a team, the two DJs Yann and Matt stand for professional DJing and producing in the colourful and diverse field of club-like electronic music. The next track and finally the set becomes what has the certain groove, what reaches the crowd on the big dance floors, what surprises and what goes straight to the legs. Both in the studio and on stage they get along blindly and thus generate an enormous output of energy and creativity.
DJing
Above all, the DJ has a job: to create a mix that uncompromisingly invites the partygoers on the dance floor to dance and touches them deep inside. E.Q.T. = two experienced DJs work together. They push themselves and their guests from track to track towards a climax – and this through the mix of their different influences. Although one could generally speak of club sound, this description is too short. E.Q.T. mixes in style what the floor needs – without being limited by music genres. What is important is that her mix carries the guests through an exuberant and at the same time cool and much too short night. Professional mixing and a constant stream of new sound samples add the finishing touch to the individual tracks. The result is a unique mix that can hardly be planned in advance. Because the feeling for the dramaturgy of a night is the DJ's most important tool. E.Q.T. proves a special sensitivity for the dance floor, because as a team the two DJs bring along an extreme presence. Whether in clubs, at open air or big business events – E.Q.T. with his sound and his enthusiasm for party nights not only creates emotions, but an irretrievable sense of togetherness.
The Sound of E.Q.T.
E.Q.T. has been composing and producing its own pieces for several years. Yann and Matt move stylistically between Deephouse, Tech-House, Electro and Big House tunes and can hardly be reduced to a single sound. Since they are not only DJs and have a feeling for the dance floor, but also focus on driving rhythm as drummers, their pieces invite less to dream than to dance. In addition, the two find an ideal complement in the development of melodies, lyrics and sounds. In their home studio in Hamburg they also work together with various professional vocalists. This allows them to implement their ideas independently of finished sound files and samples. Above all, however, the construction of their own studio gives them enough freedom to produce what inspires and draws them along on long studio nights. E.Q.T. is also special when it comes to producing: they bring together their own different influences from House, Hiphop, 90s, Funk as well as DJs and musicians.
On April 18, 2016 they had their first single release called "DUCKFACE" at "Planet Trax Records" under the leadership of their heart colleague JAY FROG. At the end of October 2017 the official E.Q.T. remix for the new 90's Smash hit "Sonic Empire" by Holmes&Watson was released by Kontor Records. In December 2017 an EP produced by E.Q.T. called "Hamburg" has been released on Dance of Toads Records and in April 2018 an official deep house Remix of E.Q.T. has been released for the saxophone house track "2. A.M." by Anne La Sastra & Fred Martin on Digital Room Records (Austria).
The Spirit of E.Q.T.
In 2006 Matt and Yann met one night behind the turntables of the club "Große Freiheit 36" in Hamburg. There was a little competition in the air right away. So they quickly began to count the cries on the dance floor with a tally sheet and to credit themselves as with sports results: Crass transition to a rousing hookline – scream at the party crowd – point for Yann; tension built up by a pushing bass – relief by a sample, which announces the new track – cheering on the dance floor – point for Matt. Whoever won the challenge at that time is still being discussed in the studio today during exuberant nights. But the two were already agreed at that time: Such a night must be repeated. The feeling of cheering each other on the one hand and creating a homogenous mix through the same feeling for music on the other hand was like an initial spark. The name was soon clear: the French invitation to listen when they started, i.e. the term "écoutez!", became their programme and their registered trademark: E.Q.T. ®!
Écoutez!
Finally, it remains to explain exactly what E.Q.T. means. In both production and DJing, they are all about one thing: meeting the certain point with dancers, celebrators and listeners that touches them, that moves them, that makes them listen up. So they ask by their name to listen. Now everyone suspects it: E.Q.T. stands for the French verb écouter. But E.Q.T. claims the imperative and says "listen!": écoutez!
References
Since the mid-90s Yann and Matt have been DJing in the nightlife. At E.Q.T. a lot of experience comes together, which has turned into new bookings for numerous organizers and clubs. Here is a small selection of clubs, events and agencies that rely on E.Q.T.:
The Dancefloors
Clubs / Residenzen:
Große Freiheit 36, Hamburg
H1 Club & Lounge, Hamburg
DREIIIZEHN, Hamburg
Kaiserkeller, Hamburg
Electro Basement / QUER, Hamburg
Parlament, Hamburg
Cap San Diego, Hamburg
MS KOI, Hamburg
Kraftwerk, Rottweil
Hühnerposten, Hamburg
M-One (Welcome2), Hützel
Docks, Hamburg
Festplatz Nord, Hamburg
Café Seeterrassen, Hamburg
Café Schöne Aussichten, Hamburg
Studio One, Hamburg
Albers-Eck , Hamburg
Indochine , Hamburg
Snow Dome, Bispingen
Stage Club, Hamburg
Maxx Music Hall, Hamburg
International:
Punta Arabi, Ibiza
Makadi Bay, Ägypten
Atlantide, Zypern
Djerba, Tunesien
Events:
Sunshine-Party, Tübingen
Alstervergnügen, Hamburg
Jägermeister-Promotion, Berlin
Storck Firmenevent, Gerry Weber Stadion
Agenturen:
Kangaroo Bookings
erfolgreich feiern!
Heaven's Door
Hamburg events
Fantastic DJs
Trend Factory